、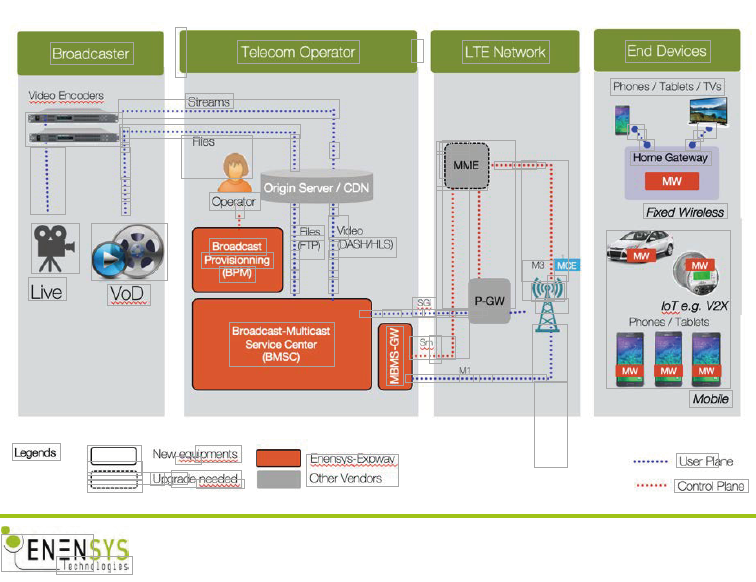 Expway eMBMS Middleware/Servers/MediaCast OTT Applications.
  Carrier Grade LTE Broadcast component for any device.
  Expway Middleware is a software library that implements the 3GPP eMBMS specifications. It is compatible with a wide variety of LTE devices. It allows end-users to enjoy unsurpassed Quality of Experience when watching high quality videos and downloading content, while reducing the operator's transmission cost. It is certified and deployed by multiple mobile network operators, chip manufacturers, and device makers.
  Expway eMBMS Servers,Designed to cope with a variety of deployment architecture.
  Expway Servers are fully virtualized, support various NFV environment, and containerization.
  1、Expway BPM: is used to configure and manage eMBMS service plan
  ->Automatically activate a multicast stream when needed
  ->Receives content consumption statistics
  ->Offer user interface with different level of authentication
  ->Managed advanced services in Public safety
  2、Expway BMSC generates and delivers multicast streams to the network
  ->Architecture based on Control and User PlaneSeparation
  ->Java based software with C code for CPU intensive tasks
  ->Support Public Safety Interfaces: MB2-C/U
  ->Support SG-mb, Sm or M3 interfaces for flexible integration
  3、MCE
  ->Support M3/M2 interfaces
  ->Management of dynamic allocation of MBMS resources
  二、Expway eMBMS Middleware
  A single solution for Video and Public Safety Use Cases.
  ->C++ based software with API in Javascript, Java and C++
  ->Available on Android, Linux and Tizen. Compatible with any OS.
  ->Works any LTE Modems: Intel, Qualcomm, Samsung, ..
  ->Embeds HTTP server for proxy functionality
  ->Works for mobile devices: smartphones, tablets, hotspot
  ->Works for home devices: STB, HDMI dongles, home gateways
  ->Certified by tier 1 operators: VzW, Reliance, Telstra, Kt, ..
  ->Footprint compatible with IoT applications
  ->Efficient: can process 10's of streams in parallel in low CPU
  三、Expway eBox Overview
  ->Fully functional LTE network
  ->EPC, eNodeB, 1 RF cell
  ->Includes admin console to manage services
  ->Works with any LTE device
  ->Supports all LTE bands (1-255) and frequencies (450-5800 Mhz)
  ->Supports TDD and FDD
  ->Easy to use graphical user interface
  ->eMBMS capabilities can be turned on if required
  ->Fits in one single box:
  ->All components are pre-integrated, pre-tested
  ->Compact and portable
  ->Plug-and-play